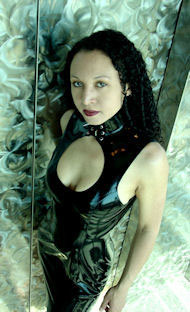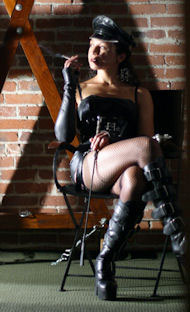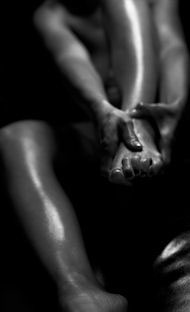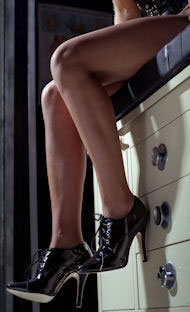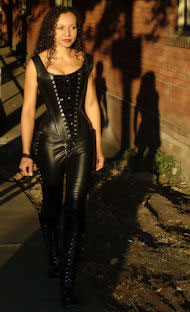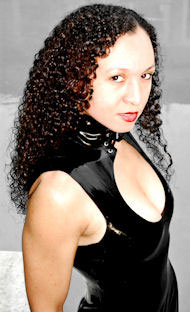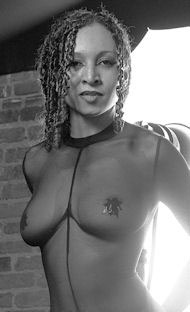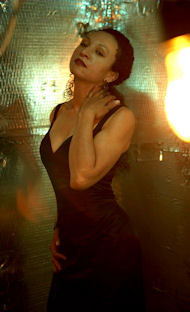 Kink for the truly discerning explorer. If you desire a sincere, intense and intellectually satisfying connection then seek no further. I enjoy those whom wish to engage in a more sophisticated interaction. I specialize in intelligent, well-sculpted and individualized sessions based on our shared interests. Some view bondage and discipline, domination and submission, and sadomasochism as a tool of learning or an enjoyable pastime or a sensual journey. I do not feel these are mutually exclusive and enjoy what each scene cumulatively exposes it's adventurers' to. As a dominant, sadist, leather and latex fetishist and body modification practitioner I love to create atmospheric intensity using the psyche as the foundation. From discrete and subtle to bold and innovative each scene holds it's own beauty.
I enjoy a variety of approaches to play but am very selective of whom I engage in them with. My sessions are expertly crafted for each individual from the serious lifestyle submissive to the fun loving explorer. I excel at inventive scenes and revel in my ability to alter mental or physical perceptions. As an escape from the mundane or the traditional I help you discover unknown starry islands in the dark nights' sky. From the fantastic to the fundamental the possibilities are endless.
I may transmute any purely D/s interaction into a dynamic physical arena where we have the opportunity to explore your body in uncountable ways, you need only the desire to follow as I guide. My skills are multi-dimensional and diverse, my approach worldly, educated and experienced and my charms eclectic, intoxicating and beguiling. Individuals I enjoy spending time with are those who are respectful, receptive, thoughtful, responsive and open. Individuals, couples and groups are always welcome for sessions, training, workshops or advice.
Experience
As a well educated woman with a diverse background of interests you will find our interaction to be unique and multi-layered. I began my exploration of domination in my late teens and four years later immersed myself professionally. My style has evolved over the past 14 years as a professional Domme to combine elements of psychology, philosophy, art, professional instruction in both medical and kinky application as well as personal and professional play experience. With such an eclectic mix of interests and experiences to draw upon I am intrigued by the equally worldly and inquisitive mind. Through continued education by some of the most respected presenters I hone my skills and keep them current. I also share these skills through workshops and give back to the community by teaching on a variety of topics as well.
Presentation and Demeanor
Physically I am a perfect hourglass with fit and lithe muscles that contour my frame. I stand 5'6″ with deep brown eyes and long dark brown curly hair. My feet are regularly pampered and are a US size 8 1/2. I pursue a clean, healthy and sober life of betterment both on a mental and physical level. My fetish wardrobe and daily attire are tasteful and diverse. If you have a wardrobe request, relevant to your fetish that I do not have, you are welcome to bring that item as a gift. Photographs on this site are current.
My demeanor tends to be stern, yet inviting and I project a positive sense of confidence and professionalism. My natural inquisitive nature allows for a familiarity and openness from even some of the most timid people. I have been told I possess wisdom beyond my years and that it is this quality that allows me to fulfill so many roles as a dominant guide. I have been honored to have had several titles applied to me over the years including: life coach, shaman, Goddess, Priestess, guide, teacher and counselor. I enjoy fulfilling many roles in my own unique way, yet always stay true to my natural persona which is calm and direct. Laughter is cherished when appropriate and I appreciate lighthearted scenes as well. My range of play style includes lighthearted exploration, intense mental and/or physical journeys, high protocol, purposeful self improvement and play as therapy.
As a dominant companion you will find my deportment equally comfortable and appropriate in a wide range of settings, be it fine dining or navigating a nightclub. I express myself genuinely and openly in all situations yet with discretion. Veiled dominance will be constant and I will not defer to traditional social archetypes of male and female interaction unless it jeopardizes exposing our clandestine dynamic.
Personal Interests
I enjoy a wide variety of interests that run a broad spectrum of fields including: writing poetry, multi-media artistic pursuits, appreciation of the arts (especially theatre and dance), philosophy, passionate conversations on a melange of topics, history, psychology, nature, architecture, sociology, reading and most anything that brings me in, on or around the ocean. I love exploration on all levels and cherish the opportunity for travel and cultural exploration. As a dominant companion in an immersion scenario I have had the pleasure of visiting over 12 countries in the past 5 years. These opportunities have allowed me to experience a larger kink community in some cases, explore interesting historical landmarks and familiarize myself with several different cities, among numerous other things.
Ethics
While it may seem that I have a wide range of interests and should be compatible with most interested applicants/inquiries, that is far from accurate. I have been a rogue all my life, some say that is what makes the best leaders. I have carved my own path that sometimes overlaps with similarly minded people. It is to those whom blaze their own trails, champion creativity, have always felt slightly different or those cutting edge minds that I extend an invitation to. I am very selective of who I interact with. I want the best experience for both parties and will not accept a session for purely financial gains. I become a confidante and invest myself heavily in the sculpture of each conversation, scene and social adventure. I build my practice around trust, confidentiality and professional chemistry and prefer that each engagement be enjoyable for both participants. Pursuit of any personal relations by an applicant will immediately terminate our involvement. Compensation for my time helps keep the structure of our formal agreement intact and is expected at all times for sessions, distance training, counsel and companionship. I will respectfully choose how to explore my interests within your limitations; at no point in time will I accept scripting or direction. Your interests, limitations and boundaries will be respected at all times. It is pertinent that I forge a connection with each individual on a common mental level of interest. I feel it is counterproductive to engage in a scene when it isn't mutually satisfying and will not pursue an interaction with someone who does not share a common interest or goal.
Website 1: http://www.dungeondeydia.com
Email 1: This email address is being protected from spambots. You need JavaScript enabled to view it.
Telephone: 0041791941036
Location: Zurich
Specialities:
Blindfolds
Body Worship
Bondage
Boot Fetish
Breath Control
Cages & Caging
Caning
CBT (Cock and Ball Torture)
Chastity/Key Holding
Corsets
Electrics
Face Sitting (Clothed)
Face Slapping
Financial Servitude
Fire Play
Flogging
Food Play
Foot Worship
Forced Feminization
Gags
High Heel Worship
Hoods
Hot Wax Play
Human Ashtray
Ice Torture
Kicking
Latex
Leather
Lingerie
Maid training
Mummification
Nail Fetish
Nipple Torture
Over the Knee Spanking
Pony/Puppy Play
Queening
Shoe Fetish
Slapping
Smoking Fetish
Smothering (Clothed)
Spitting
Suspension
Tickling
Tie and Tease
Trampling
Water Sports
Whipping