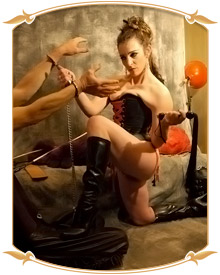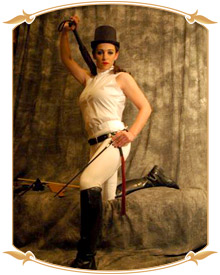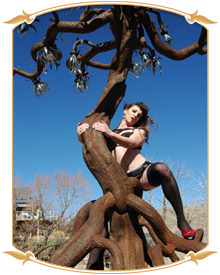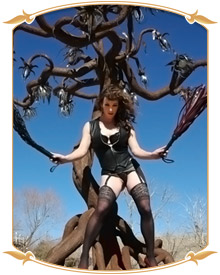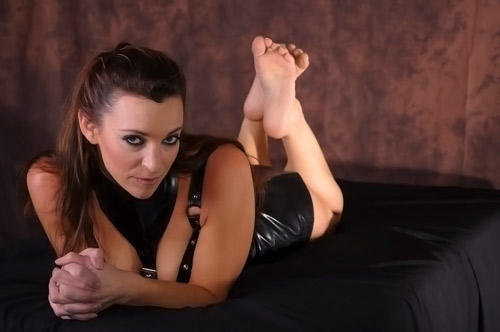 Welcome gentlemen… and ladies… to my lair. What you find here depends on your own shadow self and the desires that lie within. What I offer is an escape from reality, a twisted garden, engaging the sensuous and the sadistic, the passionate and the perverted. Taking you on a journey to another realm, where you can indulge in your submissive fantasies.
My Dominant reality is a place where time stands still and little is taboo. However, in order to be my submissive, your fantasies must match mine or at least be of interest to me. If you are truly submissive, it is my pleasure you are seeking. Of course, if you are simply a masochist or a bottom, I only need to know where your kinks lie! My application process is a requirement to ensure our compatibility as playmates, as well as, our shared growth from the adventure into the dark garden, where we play as our shadow selves. My skill and desires increase due to my evolving techniques, as well as, the passion for the adventure, and the exploration of the shadow side of the soul!
I am a consummate professional and I demand to be treated as such. You will address me and treat me with respect, as befitting a Lady. My time is very valuable and in great demand. Do not waste my time! Read and understand my site prior to contacting me with questions. If you are a novice please read my FAQ download before contacting me with questions, or schedule an in-person consultation on NiteFlirt. Also as a professional, I hold all of your information in the strictest of confidence. My requirements and protocols are required for the safety and security of us both. I am sure you understand.
I am Lady Desiree, an ever evolving and dynamic Domina. Active in BDSM for more than 8 years, my introduction as a submissive enabled me to attain a unique understanding of the psycho-emotional and physical aspects that turn an excellent scene into an amazing journey of stimulation and exploration. I have chosen to shift the balance of power and use my insight to focus on creating this intangible and esoteric energy that will carry others on a journey of altered senses and newfound freedom. As with my clients, I have many desires covering a wide range of tastes and styles, many will be discussed prior to any meetings. I sincerely enjoy utilizing my Dominance, knowledge, intuitive senses and well-developed skills to pursue scenarios that will remain in your mind forever.
I see submission as a gift: a gift of trust, which is to be cherished and protected. I will not take your submission… unless otherwise negotiated. You will offer it to me willingly, and I will accept it with honor and grace.
I am very open-minded and non-judgmental. I don't believe there are "wrong ways to play," only different ways. As long as it is safe, sane, consensual and legal, I enjoy all the many paths to be explored. All players, including myself, have their limits. Some are distinct and well defined; others may be challenged and expanded. I will always respect your limits and demand the same from you.
Although I am not a sadist by nature, I am sadistically turned on by your masochistic desires. I have a strong and steady hand, complemented with a gentle and sensitive touch. My whip may caress, while my hand may sting.
Website 1: http://www.ladydesireeslair.com
Email 1: This email address is being protected from spambots. You need JavaScript enabled to view it.
Email 2: This email address is being protected from spambots. You need JavaScript enabled to view it.
Telephone: (775) 336 9113
Location: Reno
Specialities:
Adult Babies
Blindfolds
Body Worship
Bondage
Caning
CBT (Cock and Ball Torture)
Chastity/Key Holding
Corsets
Cross Dressing
Electrics
Financial Servitude
Flogging
Food Play
Foot Worship
Forced Feminization
Gags
High Heel Worship
Hoods
Hot Wax Play
Leather
Mummification
Over the Knee Spanking
Pony/Puppy Play
Role Play
Rubber Fetish
Sensory Deprivation
Shoe Fetish
Smoking Fetish
Smothering (Clothed)
Spanking
Tie and Tease
Whipping