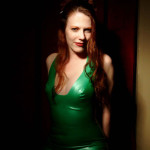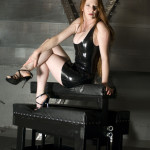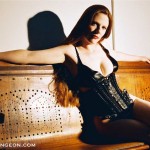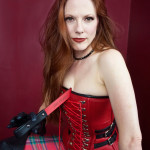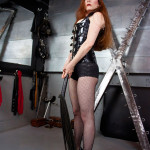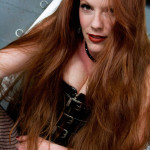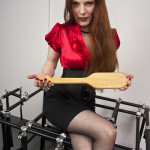 Lady Lydia has been a Professional Dominatrix since 1991, is a widely published Fetish Model, and is also a strict top in her personal life. She has a near criminal history of sadistic abuse…. She truly enjoys showing pleasure through pain to brave souls.
Lady Lydia is petite (5'3′ and 110 pounds) with long auburn hair, a slender, busty build, and tiny feet. She has a full fetish wardrobe, and is experienced in all aspects of BDSM and Fetishism. She is versatile and her repertoire includes anything from subtle and mild play to intense and extreme play. Individuals and couples are welcome, from curious novices to experienced and seasoned aficionados.
Lady Lydia welcomes submissive males and females into her dungeon, as well as couples in which at least one partner is submissive. She does not discriminate on the basis of age, race, religion, or any other factor, and is particularly pleased to accommodate anyone with a disability.
If you are a masochist, Lady Lydia will hurt you. Don't let her beautiful smile deceive you: she will delight in causing you all kinds of physical pain. If you can handle being marked for a week or two, she will be truly happy. However, for those of you who can not be marked, she will devise ways in which to cause physical torment of your person with an amazing lack of evidence.
Lady Lydia believes that all BDSM play should be safe and consensual. She always uses clean instruments on you and encourages submissives to bring their own playthings. The idea of sane play perplexes her and was left out of the "safe and consensual" on purpose. Sane is derived from the Latin word Sanus, which means health. Though she will always be cautious and concerned for her submissives' well being, Lady Lydia believes that her submissives must also be accountable for themselves.
What does that mean to you? That you will inform the Lady if you have consumed alcohol or drugs (prescription or not), if you have a medical condition (recent surgery, injury, etc.), and your personal boundaries (both physical and psychological) prior to the start of your session. Any issues that occur due to your lack of communication are your own fault. The practice of BDSM involves two-way communication. Lady Lydia can not read minds, so you will need to communicate your needs to her directly.
Website 1: http://www.seattledungeon.com
Email 1: This email address is being protected from spambots. You need JavaScript enabled to view it.
Telephone: 2065502570
Location: Washington
Specialities:
Age Play
Ball Busting
Bondage
Boot Fetish
Breath Control
Caning
CBT (Cock and Ball Torture)
Chastity/Key Holding
Electrics
Face Slapping
Flogging
Foot Worship
Forced Feminization
High Heel Worship
Hot Wax Play
Human Furniture
Humiliation
Ice Torture
Interrogation
Japanese Rope Bondage
Medical
Mummification
Nipple Torture
Over the Knee Spanking
Pony/Puppy Play
Role Play
Sensory Deprivation
Shaving/Waxing
Shoe Fetish
Slave Training
Suspension
Tickling
Tie and Tease
Trampling
Verbal Abuse
Whipping