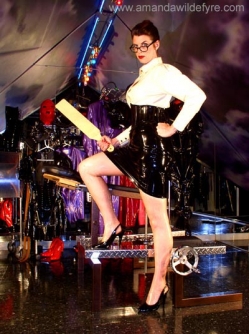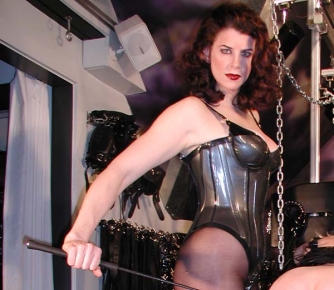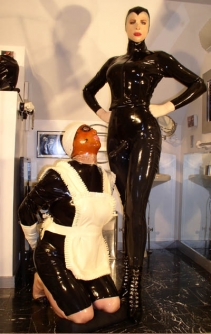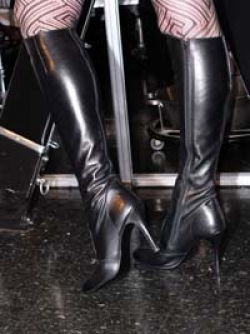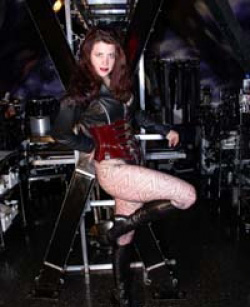 For almost 15 years, Castle Diabolica has been my grand oeuvre, my sanctuary, and my laboratory for fetishworld creativity, the likes of which could never be contained or adequately displayed on a conventional stage. Thousands of people have visited its confines, each with their own unique visions, fantasies and requisite bravery to offer themselves up to be ensnared, caged and immobilized. For many years, I played to a captive audience of one in my unique studio, often snapping photos of creative flashes and entertaining juxtapositions for future reference. I owe a special thanks to David Jackson of Domination Directory International, who was the first magazine editor to require that I provide him with a fresh series of high-quality images for every new issue.
From those early DDI photo shoots, I began to see what I did and what I created here at Castle Diabolica as something more than an in-the-moment experience. Rather, the photos often reflected what I saw while I worked, and revealed what turned me on the most about scening -- the lush interaction of human body and technology, the geometry of the struggle, and finally the complete trust my subjects place in me. Trust that results in a memorable, even life-changing physical and emotional experience, and trust that I will find a way -- both beautiful and powerful -- to capture their experience on film.
Which leads me to introduce my extraordinary team of collaborators, my most frequent photographers and subjects, without whose patience and willingness to use worklights instead of strobes, or to hold that excruciating pose for the fabled "five more minutes," these images would never have reached you. Without them, I would not continue striving to produce, for our mutual awe and entertainment, the photographs and video footage you will find here.
Studio
Visitors to my clean and spacious Castle Diabolica, are greeted by a space-age array of suspension, leather, and rubber bondage equipment. Awaiting your visit are bizarre and rare electric stimulation and torture units, handmade floggers, canes and paddles, a complete leather pony costume, a cage mounted on an eight-foot platform accessible only by ladder, and a mountain of other rare fetish paraphernalia one might not expect in Midwestern surroundings.
By many accounts, I am one of the world's most avid collectors of bondage gear; I am especially proud of my leather bodybag, armbinder, fistmitt, straitjacket and hood collection. Much of my equipment has been custom-designed to my own specifications and produced by the world's finest manufacturers, Fetters/Mr. S and Demask Rubber of Amsterdam. Not since Houdini have escape artists faced a more daunting challenge.
Website 1: http://www.amandawildefyre.com
Email 1: This email address is being protected from spambots. You need JavaScript enabled to view it.
Telephone: 612.874.0803
Location: Minnesota
Specialities:
Bondage
Cages & Caging
Caning
Electrics
Hoods
Latex
Leather
Medical
Over the Knee Spanking
Spanking
Suspension
Verbal Abuse
Whipping