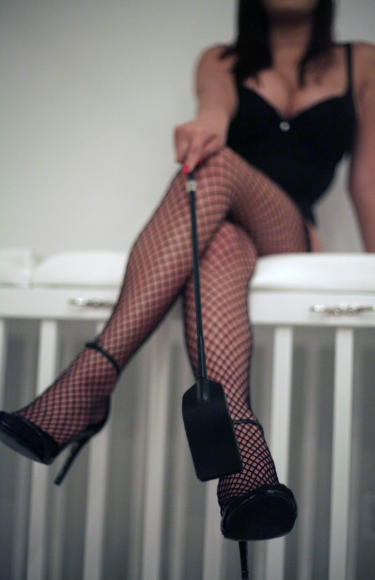 On a random summer day in My freshman year of college, My friend dared Me to watch a "weird" film that was featured on Netflix. Interested, I accepted her dare and found Myself watching a documentary called, "Fetishes." The film follows several professional dominatrix' lives in an elite, upscale dungeon in New York City. Instead of being disgusted, I was immediately intrigued. I initially found Myself innocently toying around with the classical reward and punishment scenarios in relationships, then eventually expanding to various types of role play. I had always secretly enjoyed creating a plethora of sadistic punishments, at their expense. Soon, hypnotizing men to become My committed pay pigs and errand boys became of a second nature to Me. It wasn't very long after that moment when I purchased My very first pair of glossy, aesthetically sexy, five-inch peep-toe black stiletto heels. With sling backs. I had, essentially but unintentionally, became a dominatrix.
However, BDSM toys and actions did not explain the psychology behind genuine domination and submission. I wanted to learn more…
To explore further into professional domination, I have been studying under highly skilled, extremely educated, and long-time member of the BDSM scene, Mistress Simone Justice.
Educated in both the fine arts and higher learning, My style of play is inspired by My unique approach of art and expertise. I am a curiously intuitive, seductive, and playful Mistress with a sadistic edge. This innate ability to nurture yet discipline are traits that are an inherent part of My natural personality. Gentle, yet stern; strict, yet understanding; feminine, yet Dominant. The paradox of the two actions creates a very powerful experience, both physically and psychologically. The more you give yourself to Me, the more you will inevitably feel liberated as I take control.
With that said, I am highly selective with those whom I choose to play with. My time, My beauty, and My creativity is reserved for those who truly and genuinely wish to serve under My guidance. I find that the best sessions are conducted with slaves who have the following inherent characteristics: integrity, willingness to learn, communication, and respect. Should we be simpatico, I will find our time together to be quite enjoyable.
Until next time,
Ms Mei Li
Based in the Los Angeles network.
Website 1: http://www.msmeili.com
Email 1: This email address is being protected from spambots. You need JavaScript enabled to view it.
Telephone: Contact by Email
Location: Los Angeles - CA
Specialities:
Flogging
Foot Worship
Human Furniture
Over the Knee Spanking
Pony/Puppy Play
Role Play
Sissy Training
Slave Training
Spanking
Stocking Fetish (Worship)
Tickling